Logo Scraper Mats
If you're looking for a mat with the perfect blend of function and character, something that helps keep the place clean while showing off what you represent, you've found what you came for.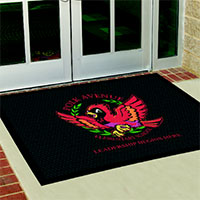 Tritex's Logo Scraper Mats combine our popular logo and scraper mat into one hardy, helpful, and colorful package. 
Made from 100% Nitrile Rubber, a durable, comfortable, and dirt-drawing material ready to last in any environment, your Logo Scraper Mat will resist curling and cracking while reducing static buildup and wear from any source.
The logo colors are made from high quality thermo-plasitic material that makes your logo pop and stay bright under heavy foot traffic.  
Aside from keeping your building clean and your logo represented, a Logo Scraper Mat will keep people safe in any weather with a certified high-traction rating from the National Floor Safety Institute. 
Tritex Has You Covered
Don't settle for low-quality mats that curl up and fade, resulting in slips and falls and an overall unprofessional appearance. Get the best with Tritex! Since 1989, Tritex Services has been serving Tennessee, Alabama and Georgia with quality linen, uniform, mat and mop rental services. 
No matter the size of your business, Tritex is here to help! We are a locally-owned and -operated company ready to work with you every step of the way.If a sturdy, safe, and company-representative mat is what you're looking for, don't wait any longer. Call Tritex today at 888-761-3238 for a free consultation!