Tritex Superscrape Impressions PDF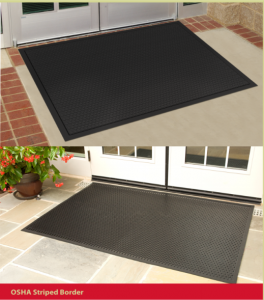 Tritex brings you excellent aesthetics and even better function all in a single package with the Tritex Superscrape Impressions line of scraper mats.
Our Superscrape Impression scraper mats are made of 100% Nitrile Rubber material known for its durability and comfort. Nitrile rubber is also known for its anti-static capacities and resistance to stains, curling and cracking thus making sure that your mats are durable and look great longer.
The logo impressions are digitally printed onto the scraper mats using high quality thermo-plastic material to make sure that the impressions come out impressively and can handle high foot traffic without fading and showing wear. Our scraper mat services are great looking and long lasting all in one beautiful mat package.
Tritex Superscrape Impressions are also designed with circular surface cleats. This effectively scrapes dirt and grime off shoes – even the toughest ones – and from any angle.
The Superscrape Impressions line of mats comes in a variety of sizes and a 150-color palette to suit your business need. What are you waiting for?
Call Tritex today at 888-761-3238 to get free price quotes or enjoy free trial!