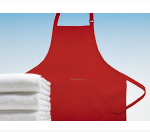 Dependable towel and apron rental service – reliable pick-up and delivery.
Maintaining commercial towels and aprons is not as simple as throwing them in a regular wash. Towels and aprons used in manufacturing, restaurant and food services, hospitals, medical institutions, and many other industries don't just get used heavily; they also get exposed to difficult stains including ones that are potentially hazardous. It takes a truly skilled and experienced company to handle these types of linens and it takes a company like ours to deliver the best towel and apron rental service with ease and convenience. Our company offers a continuous supply and regular maintenance with pick-ups and deliveries at the most competitive prices.
Towel and Apron Rental Service Advantages
–   Clean towels are used more often and collect more soil.
–   No upfront investment.
–   Safe disposal for hazardous materials.
–   No towel inventory.
–   Lower, consistent maintenance costs.
–   Towels are delivered and picked up regularly.
–   Complies with OSHA and industry regulations.
Bar towels – 16″x19″
Shop towels/wipers – 18″x18″
Hand towels – 16″x27″
Microfiber towels – 20″x20″
Variety of other towelingTowel Rental Service
We offer a variety of towels to cater to different industries. These towels come in different sizes, fabrics, and colors to specifically match any business type. The towels are high-quality and made to last even the most demanding industry use.
Spun Polyester Heavyweight 7.2 oz

32″ Nylon Braided Ties
White, Red, Black, Navy & Green Apron Rental Service
We offer rentals of commercial-grade aprons for food service establishments of all sizes. These aprons come in different colors and are made of high-quality spun polyester weighing 7.2 oz and of 32" braided ties.