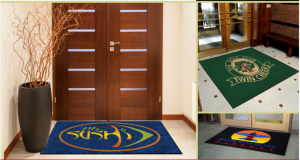 The Classic Impressions Commercial Mats collection offers:

Digitally printed logo mats reproduce fine detail, fades and 3D images
24 standard colors and over 300 accent colors available
Static dissipative nylon yarn treated with StainStopper Technology
100% Nitrile rubber backing for increased slip and skid resistance
Commercial Mat Sizes Available
2' x 3'
3'x4', 3'x5' 3'x10'
4'x6'. 4'x8'
5'x8', 5'x10'
6'x10', 6'x12'
Custom Sizes up to 40'

Why invest in plain, old, generic commercial mats when you can invest in unique and better-looking classic impression mats that bear your company's logo? Now that's a way to keep your floors clean and looking nice while selling your brand. Order yours now at Tritex!
Our line of classic impressions mats are digitally printed with fine detailing and even 3D imaging to ensure that your logos come out nicely and perfectly. Tritex classic impression mats are also designed to be low maintenance, being equipped with static dissipative nylon yarn that has been treated with Stain Stopper Technology for supreme stain resistance. Most importantly, our mats are made of 100% Nitrile Rubber making it not just high quality and durable but also very comfortable and ideal in slip- and skid-resistance.
What are you waiting for? Check out your choices for classic impression mats today or contact Tritex today at hotline 888-761-3238 to request a free consultation!
Download the Classic Impressions Commercial Mats PDF