Download Tritex Wildlife Mats PDF
Our wildlife mats collection features a range of mats with a quality design. The featured artwork we provide are from five renowned Wild Wings artists. These floor mats will enhance the décor of any business, including sporting goods stores, hardware stores, lodges, restaurants, and bars.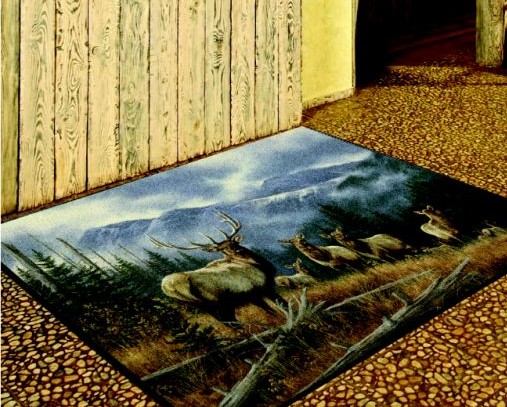 These wildlife mats are functional in their high quality ability to stop dirt and moisture at the door. They collect all moisture from the bottom of visitors' shoes and prevent them from dragging it into the business center. These wildlife floor mats are fully launder-able with a Nitrile rubber backing that will not disintegrate when washed.
Our Wildlife Mats come in these designs, featuring these artists:
Geese- David Maass
Bear- Rosemary Millette
Deer- Rosemary Millette
Elk- Rosemary Millette
Pheasants-Rosemary Millette
Wild Turkeys- Rosemary Millette
Wood Ducks-Rosemary Millette
Mallards- Scot Storm
Trout- Mark Susinno
Bass- Sam Timm
Give us a call at 706-657-3335 to get in touch with an experienced mat professional who will guide you through the process of renting out your own wildlife mats. Both you and your customers will be in awe at the stunning designs our artists recreate on the quality and durable floor mats which will last your company for years.