Download Comfort Flow Comfort Scrape Mat PDF
Tritex offers mats which are durable and used for the industrial field as well as restaurant kitchens. They are beneficial in the kitchen because they are treated with an anti-microbial agent to guard against degradation from microorganisms, reducing the possibility of mats being the source of odors. Greasy spills, leaks, and many other items easily end up on the kitchen floor, especially during peak times of the day. Lower spillage risks and keep your floors clean with our Comfort Flow and Comfort Scrape mats.
Our Comfort Flow and Comfort Scrape mats are created with 100% nitrile rubber for superior grease and oil resistance. These are beneficial for slippery work environments, due to the fact that these mats are certified in slip resistance.
These floor mats are beneficial in industrial fields due to their anti-static properties that allow for use around sensitive electronic equipment.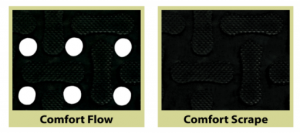 The Comfort Flow and Comfort Scrape floor mats that we offer are available in a variety of sizes for your business's preference, like the following:
Standard Sizes
2' X 3'
3' X 5'
3' X 9'
4' X 6'
Connector clips available for Comfort Flow:
Side to side
End to end
Contact Tritex ASAP at 888-761-3238 and order your Comfort Flow and Comfort Scrape mats!