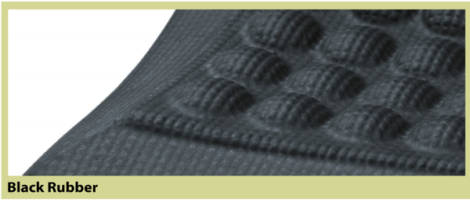 AirFlex Custom Floor Mats Rental Program
Chemical resistant Nitrile rubber provides excellent cushion during use, giving maximum durability and longer surface life.
All-rubber surgace means exceptional stain resistance and easy maintenance.
Dome design provides superior relief from back and leg stress.
Certified high traction by the National Floor Safety Institute
Poor conditions in workplace flooring can lead to painful injuries in the legs, knees, and back and often cause valuable workers to leave. Avoid this scenario in your own ward by making sure your floors are comfortable and decked out in Air Flex custom floor mats. Get yours now from Tritex Services!
Our line of AirFlex floor mats are made of nitrile rubber. This material ensures longevity and stability, being chemical-resistant. The surface is also properly and fully cushioned, and comes with an efficient dome design making the mats ideal for places where workers are required to stand for long periods of time like restaurant kitchens, production plants, warehouses, and other workplaces. They are also very easy to maintain, with the material being highly resistant to stains.
Our AirFlex floor mats come in standard sizes:
2'x3'
3'x5'
What are you waiting for? Call Tritex today at our hotline 888-761-3238 to get your AirFlex custom floor mats! Tritex offers free trial and free price quotes.
Download the AirFlex Commercial Mats PDF