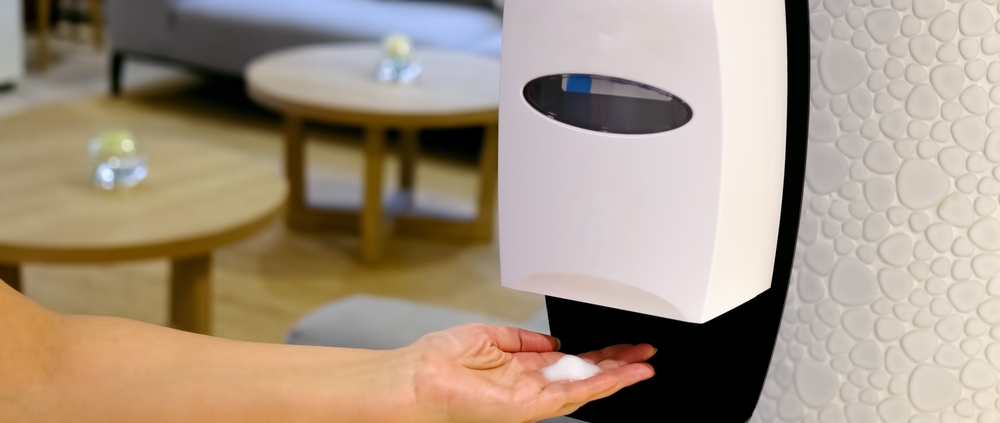 A healthy workplace starts with good, clean hands. You can make that happen with easily accessible hand sanitizing stations. Start the movement for cleaner hands in the workplace with help from Tritex's hand sanitizer supply service!    
Tritex makes it easy to equip your facility with accessible hand sanitizing stations. Our hand sanitizer supply service ensures:
Safe and Effective Hand Sanitizers.

Our hand sanitizers are made of a special formulation that effectively cleanses and disinfects without drying or irritating the skin. This special formula is ideal for use in almost every situation, even by people with more sensitive skin.
Cost-Efficient Solutions for Your Restroom Supply Needs.

Tritex's hand sanitizer supply comes in large volume and is delivered to your facility. Our service is designed to get rid of the costly, time-consuming process of having to buy hand hygiene essentials yourself.
Dispensers and Supply Replenishment by Tritex.

Tritex completes the service with hand sanitizer dispensers, dispenser installation, and regular supply refills. Your route representative will keep a close eye on your inventory to make sure that you never run low on your hand hygiene essentials.
The Most Effective Way to Improve Hygiene in the Workplace
There's no mistaking the importance and life-saving power of proper hand hygiene. That's why it's essential to equip your workplace with the right tools that encourage your workers to maintain hand hygiene at all times.
There's nothing more effective than easily accessible hand sanitizing stations. They are especially crucial in areas of the workplace that don't have handwashing stations and faucets. They're ideal to place in main entrances, around doors, and other common areas.
Tritex's hand sanitizer supply service helps you achieve that with ease and efficiency. There's no better time than now to sign up and get started!
Sign Up for Your Tritex Hand Sanitizer Service Today
Give us a call at (888) 761-3238 to learn more about our hand sanitizer service or to get a free quote.