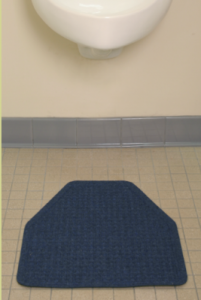 Download Tritex Restroom Service Mats PDF
Restrooms are some of the dirtiest and smelliest areas in any office or shop. And improper restroom service mats can make it dirtier – absorbing dirty water, contaminants, and foul smells in the toilet. The wrong mats will make even your most thorough of restroom cleaning process futile. Treat this problem with Tritex Restroom Service Mats!
Our restroom mats are made of Polypropylene fabric that helps eliminate moisture where most germs and contaminants thrive in. The top part is made of solution dyed fabric for bleach resistance and colorfastness feature so your mats look great for a long time despite constant cleaning.
Another common problem in keeping restrooms clean is the fact that the floors are almost always wet and therefore makes shoes wet as well. Wet soles leave dirty, disgusting, and unsightly shoe tracks not just on the toilet floors but everywhere. That is why we've added the 'Water Dam' feature to our restroom mats. These dams are strategically placed on the mat's borders that trap excess liquids on the floor and effectively keep the shoes dry and the floors, clean and germ-free.
Tritex Restroom Service Mats are further subjected to state-of-the-art antimicrobial treatment to help stop bad odor.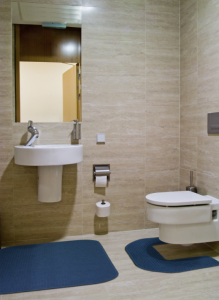 Our restroom mats are available in the following types/sizes:
Sink Mats – 3'x5'
Toilet Mats – 21'x24'
Urinal Mats – 20'x17'
You can also choose from the available colors:
Coal Black
Cobalt Blue
Cocoa Brown
Granite
Contact Tritex today at 888-761-3238 to order your own restroom service mats!