Tritex Comfort Flow Linkable Tile Mat PDF
Floor mats are a necessity for any type of business whether it is a restaurant, hospital, business center, or industrial plant. However, there are times where business owners do not know which size of floor mats they need, and end up renting or purchasing floor mats that are either too big or too small.'
If your business has rooms that vary in size and you would like a floor mat suitable for any room, a Linkable Tile Mat can be combined to fit any workstation in 18" or 36" increments. All of the tiles are lightweight and flexible for easy handling. They are easy to assemble and you are able to have small ones for the more compact rooms, and larger ones for the more spacious areas.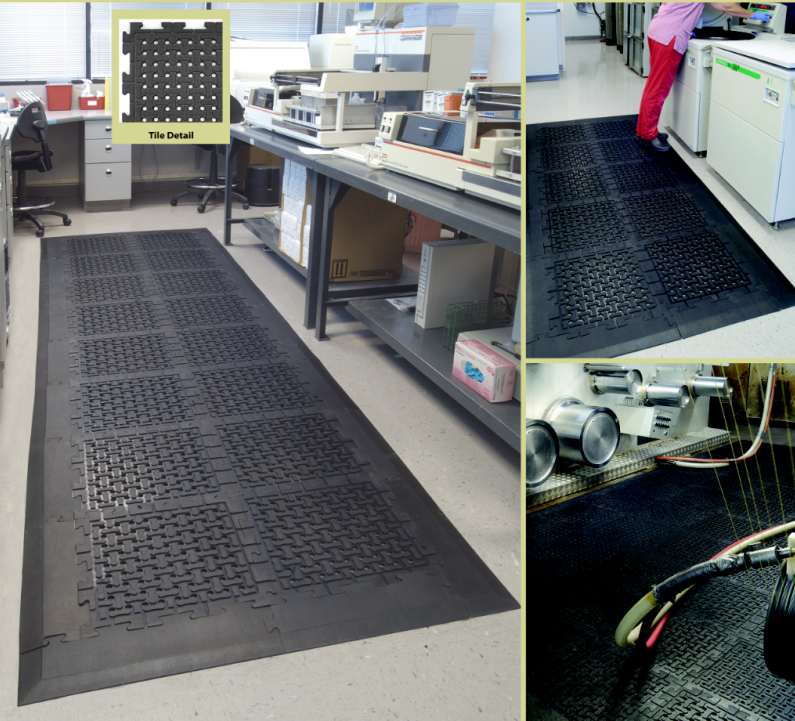 Comfort Flow Tiles are available with a grit-top surface that uses aggressive silicon carbide for added anti-slip properties as well as strong durability so they will not disintegrate after a short period of time.
Standard Sizes:
Choose Tritex's Tile Mat Services
Tritex Services is confident that we will provide your business with the best mat rental service that will cover all your business's needs. Our floor mats are strong enough to last high foot traffic and are certified slip-resistant, protecting your business center. Contact us at 888-761-3238 or visit our site today and you will be speaking with a professional who can price out a service that will work with all your special needs to give you a satisfying business experience.