Uniform Rental for your Business
November 02, 2016
0 Comments
Brian Wooten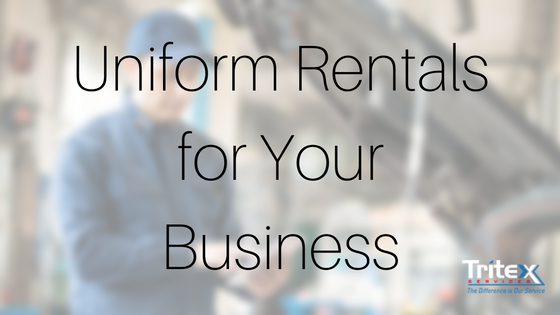 Uniforms are an essential part of any business and a quality uniform rental service can make all the difference. Uniforms are necessary for many practical reasons such as making the business look more professional as well as improving employee morale. When customers initially enter a business the first thing they notice is your employees' uniforms. When a business looks put together and professional it makes customers more eager to do business with that company. Uniforms are also necessary in order to maximize efficiency and ensure that employees can perform their job properly. Having uniforms for your business provides a sense of team spirit for the employees and makes the employees easily recognizable to customers. Uniforms can also be a form of free advertising for your business. When a uniform is customized with the company name or logo it can act as an advertising channel when the employee wears it outside of work.
Tritex Uniform Rentals
At Tritex Services, we are professionals when it comes to uniform services. Our uniforms vary depending on the industry. Our products include traditional uniforms, industrial uniforms, safety uniforms, and corporate attire. We offer options to customize uniforms with employee and company names, as well as any logos. You can get uniforms that are 100% cotton or a cotton blend; whichever is most suitable for you business. At Tritex, we guarantee on time uniform delivery for our customers.
We also offer a variety of other linen services for our customers. Our other services include tablecloth and napkin rentals, towel and apron rentals, medical linen services, and mop and mat services. We guarantee to have a service that is suitable for your business, no matter which industry. To receive your free quote today, fill out our online form or call 888-761-3238 to speak to one of our representatives.